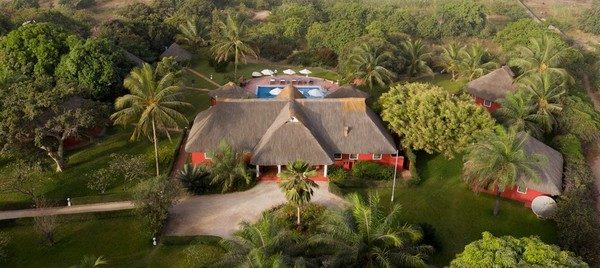 Welcome to the smiling coast of Africa, a place where people are always smiling and welcoming, a place where nature is still preserved.
If you want to escape the stress of the city for a relaxing holiday in paradise, discover the charm and authenticity of our hotel.
The hotel is ideally located in the middle of a 6 km long beach in a very quiet place where you can be lulled by the singing of the birds and the soothing sound of the waves.
The White Horse offers 6 exclusive king-size bedrooms and 3 double-single bedrooms with private terraces, sea views, TV with CD player, a large private pool with a well-stocked bar, sea views and a private beach. The endless, fine white sandy beach is about 150 metres away on foot. The beautiful Atlantic Ocean is generally warm and calm.
The main house is under an impressive grass roof structure that includes the lobby, restaurant, outdoor dining area and business office (with free 4g wifi connection). The large sea-view terrace around the long pool offers plenty of space for sunbathing and relaxing.
Whitehorse is located in the village of Batokunku – a small village on the Atlantic coast, about fifteen minutes drive south of the tourist centre with many restaurants, bars and shopping facilities. The capital of Banjul is about 35 km (21 miles) away and the international airport about 30 km (19 miles). Our hotel offers for a fee and individual transport to and from the airport.
The hotel opens its doors on 1 November 2013.